A Fateful Encounter (運命の出逢い Unmei no Deai?) is the first episode of Ultraman Mebius.
Synopsis
Mebius is sent to earth and takes up his human form. He meets with Ryuu, when Dinozaur attacks. Does he have what it takes to be a defender of earth?
Plot
Father of Ultra sends Mebius to earth. While Mebius arrives a space monster, Dinozaur, appears for the first time in 25 years. Mirai meets, Ryuu, saying the 5 Ultra Pledges but the latter is called of to deal with the monster. In the battle, all of Crew GUYS Japan is wiped out except Ryuu's, who is ejected as the captain's plane hits Dinozaur. Mirai is briefly attacked by a mysterious woman, who vanishes.
Tepei, George, and Marina help Konomi to rescue some rabbits. Mirai runs upon them, and helps them. After they escape, he transforms, and manages to defeat the monster. Ryuu yells him what kind of fight that was with all the damage Mebius didn't protected, & just like Ryuu wasn't able to protect someone, & he cried.
Mirai joins the new Crew GUYS in the end.
Cast
DVD Release
Ultraman Mebius Volume 1 features episodes 1-4.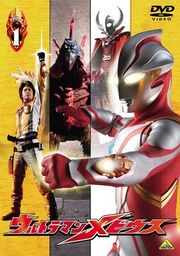 Ad blocker interference detected!
Wikia is a free-to-use site that makes money from advertising. We have a modified experience for viewers using ad blockers

Wikia is not accessible if you've made further modifications. Remove the custom ad blocker rule(s) and the page will load as expected.