For the robotic version of Ultraman Ace manufactured by the Alien Salome, see Fake Ultraman Ace.
Ace Robot (エースロボット Ēsu Roboto) is a robot and a test dummy created in the likeness of Ulraman Ace used by Yapool in Ultraman Ace TV series.
Subtitle: Superman Robot (超人ロボット Chojin Roboto)
Stats
Height: 40 m
Weight: 45,000 t
Origin: Planet Golgotha
History
Ultraman Ace
Ace Robot was a robot built and designed by Yapool after studying Ultraman Ace's battle tactics and beam attacks. In the end, he captured all four of the Ultra Brothers and imprisoned them on crosses. After having Ace Killer absorb their powers, Yapool released Ace Robot. After Yapool shouted the word "Battle", Ace Robot fired its Metallium ray into Ace Killer's face. Ace Killer shrugged it off easily and hailed upon the robot with Emerium and Specium rays, leaving Ace Robot in an unusually convincing state of pain. Then, Ace Robot was knocked down by the Ultra Bracelet and finally destroyed by the M87 Beam.
Trivia
Ace Robot's costume is made from the Ultraman Ace suit, but with a newly-moulded neck brace, bracelets and a metal belt.
Ace Robot's grunts were simply modified from the real Ultraman Ace's ones produced by Goro Naya.
This Ace Robot is the first Imitation Ultra which was not built to damage the reputation of, or attack its living counterpart. Ace Robot was simply constructed by Yapool so he could show off Ace Killer's power.

Thus, this Ace Robot can be considered a 'Neutral Good' character - Although he wasn't directly fighting alongside Ace, he was fighting against Ace Killer, Yapool's Choju for the episode..

Ace Robot appears to be the inspiration for Terranoid.
Powers and Weapons
Robot Metallium Ray (ロボットメタリウム光線

Robotto Metariumu Kōsen

): A replica of the similar beam used by Ultraman Ace. It has a similar energy power and was used to demonstrate Ace Killer's durability against said attack.
Merchandise
Ultra Hero Series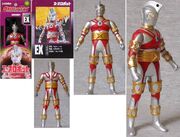 Ace Robot (Ultra Hero Series, 2002)

Release Date: March 2002
ID Number: EX
Ultra-Act
Video Game Appearances
Ultraman Fighting Evolution 3
Ace Robot is one of playable characters appearing in the video game.
In story mode, Ace Robot can had two different outcomes depending on the player's preference. Ace Robot can either...
Allow Ace Killer to destroy the player as a reference to the original Episode.
Destroy Ace Killer to achieve mission completion.
Sgt. Frog/Keroro Gunso
Mechaniwettle King (メカニウェットルキング Mekaniuettoru Kinggu) is a robotic version of the original Wettle King that Keroro Platoons (save Giroro and Dororo) created to enact their revenge on Natsumi. This robotic counterpart resembles Ace Robot and Jumborg Ace. Ace Robot's resemblance here however is only his metal bands on his thighs and arms, along with being robotic counterparts of the original ones.

Gallery