Alien Baltan's Fearful Zoo Operation (怖れていたバルタン星人の動物園作戦 Osorete ita Barutansei hito no dōbu~tsuen sakusen?) is the 37th episode of Ultraman 80.
Summary
TBA
Synopsis
Two children win a contest to act as junior reporters and tour UGM, asking questions which will be broadcasted on live television and taking photos, two help the public, especially kids, understand the responsibilities of UGM. However, a boy named Masao, who had tried for the contest but not won, sulks about his loss and is infuriated at UGM. TBA
Cast
TBA
Ultras
Aliens
DVD Release
Ultraman 80 Volume 10 features episodes 37-40.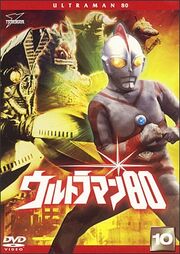 Ad blocker interference detected!
Wikia is a free-to-use site that makes money from advertising. We have a modified experience for viewers using ad blockers

Wikia is not accessible if you've made further modifications. Remove the custom ad blocker rule(s) and the page will load as expected.