Alien Godola
Comments

4
1,376pages on
this wiki
Alien Godola

Home world:
Planet Godola
First appearance:
Ultraseven episode 4: "Max, Acknowledge"
Latest appearance:
Heisei Ultraseven Episode 2
Height:
2-52 Meters
Weight:
120 Kg-45,000 Tons
Category:
Seijin
Affiliation:
Alien Pegassa (Partner)
Beryudora (Body Part)
Alien Godola (ゴドラ星人, Godora Seijin, Alien Godola?), also known as Alien Godora, are a race of aliens that appeared in Ultra Seven episode 4 "Max, Acknowledge". They also appeared in Ultra Fight, Ultra Super Fight, and Heisei Ultra Seven episode 2.
Subtitle: Anti-Gravity Alien (反重力宇宙人, Han jūryoku Uchūjin, Anti-Gravity Alien?)
Ultra Seven
Edit
Powers/Abilities
Edit
Godola Sting: Alien Godola can fire a circular beam from his claw that stings enemies.
Capture Case: Alien Godola can fire a mist that turns into a capture container that can be destroyed by sparks.
Flight: Alien Godola can fly under his own power at slow speeds
Change Size: Alien Godola can become a giant. This ability may be limited to certain agents.

Transform

: Alien Godola can transform into anyone he meets.
Teleport: Alien Godola can teleport in his normal size, not giant size
Agents:  Alien Godola general operates in large groups.
The Japanese Self Defense Force began detecting alien activity out at sea and requested the help of two
UG
members to help them. As they fell into the Alien Godola's trap and were sent into Earth's orbit, Dan was knocked out by one of Alien Godola's agents who he thought was a girl with car trouble and had his Ultra Eye taken like before. The captain and two Ultra Garrison members with a third shortly joining were introduced to the Alien Godola himself and his many agents. After disguising himself as an Ultra Garrison member he went to Earth to plant a bomb in Ultra Garrison's base and encapsulated Dan so he could further infiltrate the base as him. After one of the agents came back to taunt him, who happened to be the same one that knocked him out, he shot his gun onto a locket he was given that an alien Godola was taunting him with, using the sparks to destroy the capsule and allow him to gain his Ultra Eye back, turning into Ultraseven.
After finishing the agent with the Emelium Mini-Shot Ultraseven (Character) proceeded to defeat their leader who was disguised as Dan and even managed to damage his head with the Eye Slugger. Ultraseven chased him to a beach where Alien Godola revealed himself and went to full size. Knowing he couldn't defeat the hero, Alien Godola tried to flee, but Ultraseven used the Emelium Ray to finish him. Ultraseven headed into space where the agents planted a bomb onto the battleship and would kill everyone aboard. Ultraseven managed to defeat the agents with ease and saved the captain and Ultra Garrison members as the bomb went off.
Ultra Fight
Edit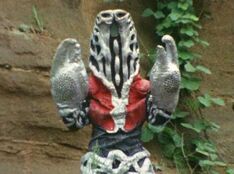 This Alien reappeared in Ultra Fight as a character that differs from many others due to his teleport ability.
He was seen once fighting Telesdon near a pool of acid. He also Changed his name to only "Godola", with a subtitle of "Space Ninja", which coincidentally is the subtitle of one of his opponents: Alien Baltan.
Heisei Ultra Seven
Edit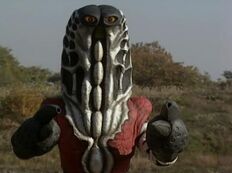 This alien reappeared in the Heisei Ultra Seven series as a partner in crime with Alien Pegassa .
The Ultra Garrison had gone to their base to destroy it and gather the Omega Files, the most top secret information collected by mankind, said to even include some of the secrets of the universe. Their reason for this was because several Godola and Pegassa aliens had infiltrated the TDF meaning it was no longer safe. While they had planted the bombs Alien Godola had trapped them using a Neural Wave, placing each in a dream world that either a dream world or personal hell that used their most profound beliefs and personality traits against them. While they were saved by Kazimori, the captain forcibly awoke himself from his paradise where his wife was still alive. Said man chased after the alien who had stolen the Omega Files and cornered him at a cliff behind the base. After a short standoff the two fired with the captain blasting a whole straight through the alien. The aliens body disappeared leaving behind the Omega Files' disk to be recovered.
It seems this Godola alien could not change size or fly considering he was trapped by a cliff.
Figure Release Information
Edit