Alien Keel (キール星人 Kīru Seijin?) are a race of aliens that "appeared" in the TV series, Ultra Q. They are first mentioned in episode 21.
Subtitle: None
Stats
Height: 2 m (Grande)
Weight: 84 kg (Grande)
Origin: Planet Keel
History
Although despite not appearing physically in the series, the Alien Keel (according to Alien Ruperts) are described as being a belligerent and barbaric race of aliens that thrive on war and hatred. They had already ravaged the home planet of the Alien Ruperts and had planned to assault Earth with their weapon, the Stingray monster Bostang. Fortunately, their plan failed when Bostang was killed by Japan's SDF, and the Alien Keel were never mentioned again.
Trivia
Alien Keel's name is based on the English word kill.
Alien Keel is one of the few Ultra Kaiju that do not possess a subtitle.
Main article: Grande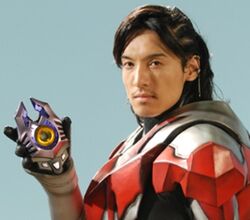 An Alien Keel by the name of Grande (グランデ Gurande?) appears in the series, Ultra Galaxy Mega Monster Battle: Never Ending Odyssey. He appeared in episodes 6, 7, 10, 12, and 13. He also acts as a secondary antagonist to the series.
Trivia
Grande is the first Alien Keel to officially appear.
Powers and Abilities
Spaceship: Grande has a spaceship which looks like Bostang.
Armor: Alien Keel Grande wears armor. It is unknown how strong it is.
Ad blocker interference detected!
Wikia is a free-to-use site that makes money from advertising. We have a modified experience for viewers using ad blockers

Wikia is not accessible if you've made further modifications. Remove the custom ad blocker rule(s) and the page will load as expected.