Alien Kukaratch (クカラッチ星人 Kukaracchi Seijin?) is an alien that appeared in Ultraman Orb The Movie: Lend Me The Power of Bonds!.
Subtitle: Insect Alien (昆虫宇宙人 Konchū Uchūjin?)
Stats
Height: 1.8 m
Weight: 80 kg
Origin: Planet Kukaratch
History
Ultraman Orb The Movie: Lend Me The Power of Bonds!
Alien Kukaratch was one of Mulnau's agents sent to steal the X Devizer from the SSP, alongside a Cicada Woman, Hupnath and a Garmes Person, so that Ultraman X could be turned into a jeweled statue like Ginga and Victory. Their plans were stopped when Gai Kurenai arrived and fought the group in a fist fight.
Later the alien was present inside Mulnau's mansion where it later again engaged in a fight before Jugglus Juggler stole back the Dark Ring from Mulnau and he and the entire cast of heroes left the mansion.
Trivia
The race's name is a corruption of the English word for "cockroach".
The head is believed to be a loosely modified Arakunia head.
Ultraman Geed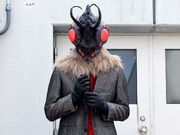 A lone Kukaratch was to be deported from the Earth but hid himself from the authorities out of fear getting out from the planet. Moa Aizaki and her temporary partner Kuruto were sent to bring him in. The Kukaratch assaulted Moa out of self-defense when she was talking on the phone, but was quickly knocked out by Kuruto.
Trivia
Voice actor: Yūki Hirashita
Powers and Weapons
Human Disguise: Like the rest of his fellow agents, Alien Kukaratch can disguise himself as a human to blend in with society.
Gallery
Ad blocker interference detected!
Wikia is a free-to-use site that makes money from advertising. We have a modified experience for viewers using ad blockers

Wikia is not accessible if you've made further modifications. Remove the custom ad blocker rule(s) and the page will load as expected.