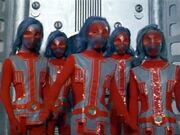 The Alien Monoron (モノロン星人 Monoron Seijin?) were peaceful aliens that appeared in the series, Fight! Mighty Jack.
Stats
Height: 5 ft
Weight: TBA
Origin: Planet Monorons
History
TBA
Powers and Abilities
TBA
Trivia
All or most of the heads of the Alien Ghos suits were reused and repainted for the Alien Monoron.
Ad blocker interference detected!
Wikia is a free-to-use site that makes money from advertising. We have a modified experience for viewers using ad blockers

Wikia is not accessible if you've made further modifications. Remove the custom ad blocker rule(s) and the page will load as expected.