Alien Mystellar
Comments

0
1,371pages on
this wiki
Alien Mystellar

Home world:
Space
First appearance:
{{{First appearance }}}
Latest appearance:
{{{ Latest appearances }}}
Height:
2-42 Meters (Good)

2-45 Meters (Evil)

Weight:
130-21,000 tons (Good)

150-25,000 tons (Evil)

Category:
{{{ Category }}}
Affiliation:
N/A
Alien Mystellar (ミスト - Mystella) were a pair of alien brothers, one good and one evil, that appeared in episode 49 of The Return of Ultraman.
Subtitle: Space Alien (宇宙人 - Uchuu Uchujin)
The Return of Ultraman
Edit
Powers/Weapons:
Edit
Cannon: The Mystellars' trunk-like mouths can fire missile-like cannon blasts at will.
Mind Control: When needed,The Mystellars can take control of a being's mind and have them do their biddings.
Size Change: The Mystellars can change their sizes from that of a man's to that of a giant monster's at will.
Disguise: When on Earth, the Mystellars can disguise themselves as a human to blend in with society.
Pending.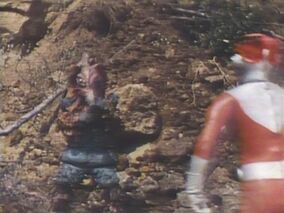 Alien Mystellar reappears in Redman.