Alien Plachiku (プラチク星人, Purachiku Seijin, Alien Plachiku?) is an alien of an unknown race from the planet Plachiku that appeared in episode 30 of Ultraseven.
Subtitle: Plastic Phantom (プラスチック怪人 Purasuchikku Kaijn?)
Stats
Height: 40 m
Weight: 15,000 t
Origin: Plachiku star
History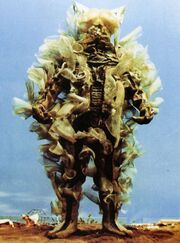 Alien Plachiku first appeared with his fan-like drill under ground after it was detected, but soon got away after the latest Ultra Garrison member tried to glorify himself. Later that day he managed to hijack the TDF MRI with four tanks and went on a rampage. With the tanks shortly destroyed by the Ultra Garrison, Dan sneaked aboard, but was seemingly knocked out by Alien Plachiku until he turned into Ultraseven. The two of them grew much larger and battled, but after being  tossed Alien Plachiku seemingly surrendered until Ultraseven turned around and was petrified. Alien Plachiku  continued his attack when Ultraseven became unpetrified and destroyed his drill with the Emerium Ray. After some time of fighting both fighters became very exhausted and could barely crawl until Ultraseven tossed Alien Plachiku and destroyed his body with the Emerium Ray. Later on his skeletal form was killed by a shot from the Ultra Garrison.
Trivia
Powers and Weapons
Drill: Alien Plachiku can control a giant fan-like drill similar to the Ultra Garrison's TDF MRI. This vehicle launches grenades and can petrify pilots.
Petrify Mist: Alien Plachiku can release a mist from his "mouth" that petrifies enemies on contacted, however, this mist only has a limited amount of time on Ultras.
Extraordinary Jumper: Alien Plachiku can jump far distances.
Skeleton: Alien Plachiku can revive himself in his skeletal form.
Gallery