Another Monster Tamer (もう一人の怪獣使い Mō Hitori no Kaijūtsukai?) is the 6th episode of Ultra Galaxy Mega Monster Battle.
Plot
Great Monster Battle File!
Oki: Great Monster Battle File! Today's monster is this one! Ancient Monster Twin Tail. He attacks using his two tails as a whip. He is from the same family as the Ground Monster Gudon. He has been defeated by Gudon many times.
Kumano: Just like humans, huh?
Oki: Yep.
Kumano: Well you can compare them to you and me then. You and me are just like that combo.
Oki: You can't really say that.
Kumano: Huh?
Oki: It will be over if I beat you.
Kumano: I will beat you. See you!
Oki: See you again!
Cast
Suit actors
Monsters
Ordinary Monsters
Reionyx Monsters
DVD Release
Ultra Galaxy Mega Monster Battle Volume 4 Features episodes 6-7.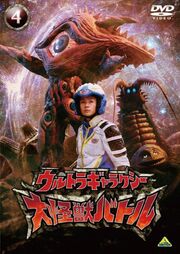 Ad blocker interference detected!
Wikia is a free-to-use site that makes money from advertising. We have a modified experience for viewers using ad blockers

Wikia is not accessible if you've made further modifications. Remove the custom ad blocker rule(s) and the page will load as expected.