Aroza

Home world:
Planet Earth (Mirrorman universe)
First appearance:
Mirrorman Episode 18 "Dinosaur Aroza Rises From The Dead"
Latest appearance:
Mirror Fight 2012
Height:
47 m
Weight:
57,000 t
Category:
Kaiju
Affiliation:
The Invaders
Roar(s):
TBA
Aroza (アロザ, Aroza, Aroza?) is a Kaiju who appeared in the series, Mirrorman.
Subtitle: Ancient Dinosaur (古代恐竜, Kodai Kyōryū, Ancient Dinosaur?)
Height: 47 m
Length: 68 m
Weight: 57,000 t
Origin: National Science Museum
Aroza was a anicent dinosaur that died and his fossils where shown in the National Science Museum. Then when The Invaders arrived on Earth, they stole the Aroza fossils and revived it making it to cause chaos. TBA
Aroza seemed to be Mirrorman's monster who broke away from Mirrorman alot, appearing with Fireman monster, Dark Mender in a Special Effects tribute show, constantly appearing in Mirror Fight and even joining in on the UltraLand stage shows.
Aroza's roar is a slightly sped up Godzilla roar.
Design: Tetsuzo Osawa
Aroza's costume appeared in the 36th episode of the tokusatsu " Space Sheriff Gavan ".
Mirror Fight
Edit
Aroza appeared in episode 5, 15, 20, 21, 22, 23, 24, 28, 29, 30 and 55 of Mirror Fight. Unlike the majority of the monsters in this series, all of Aroza's fights were newly filmed and not stock footage.
Other Media
Edit
Dorifu Daibakushô
Edit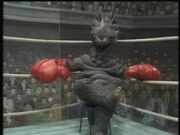 Aroza reappears in a 1980s series called Dorifu Daibakushô (ドリフ大爆笑 Dorifu Daibakushô?)
Powers and Weapons
Edit
Fireball: Aroza can fire a missile-strength fireballs from his mouth.
Ad blocker interference detected!
Wikia is a free-to-use site that makes money from advertising. We have a modified experience for viewers using ad blockers

Wikia is not accessible if you've made further modifications. Remove the custom ad blocker rule(s) and the page will load as expected.