Alien Babilar

Home world:
Planet Dark/Babilar
First appearance:
The Ultraman Episode 32
Latest appearance:
{{{Latest appearance}}}
Height:
190 cm
Weight:
240 kg
Category:
Seijin
Affiliation:
Megasaura (Weapon)
Roar(s):
{{{Roar(s)}}}
Babilar
(バビラー,
Babirā
?
) were a species of aliens that appeared in
The☆Ultraman
.
Subtitle: Dark Alien (暗黒-星人, Ankoku Seijin, Dark Alien?)
Height: 190 cm
Weight: 240 kg
Origin: Planet Dark/Babilar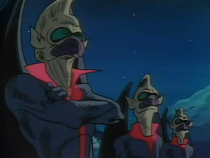 The☆Ultraman 
Edit
Pending
Voice(s): Hiroshi Ohtake and Shigeru Chiba
In the ending credits they are credited as the  "Alien Babira (バビラー星人, Babirā Seijin

?

)"
Powers and Weapons
Edit
Flight: Alien Babilars can fly at high speeds.
Hearing: Alien Babilars have an enhanced sense of hearing that allows them to hear ultrasonic signals from dozens of kilometers away.
Wing Bolts: Alien Babilars can fire bolts of energy from their wings.

 
Ad blocker interference detected!
Wikia is a free-to-use site that makes money from advertising. We have a modified experience for viewers using ad blockers

Wikia is not accessible if you've made further modifications. Remove the custom ad blocker rule(s) and the page will load as expected.