Back before Ultraman's and Tsuburaya Production's 40th birthday, Banpresto helped promote the series and made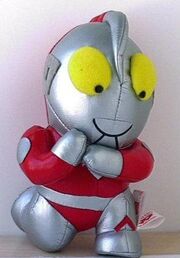 over fifty plush toys depicting Ultramen and the monsters they fought. The plush toys where roughly five inches tall and where made in the style of chibi. The Ultraman line focused on Ultras from every era, Ultraman, UltraSeven, Jack, Ace, Taro, Tiga, Dyna, Gaia, Agul, Mebius, and others, while the monster line mainly focused on Ultra-Q through Ultraman Leo.
Ad blocker interference detected!
Wikia is a free-to-use site that makes money from advertising. We have a modified experience for viewers using ad blockers

Wikia is not accessible if you've made further modifications. Remove the custom ad blocker rule(s) and the page will load as expected.