Barrack Ship
Comments

0
1,308pages on
this wiki
Barrack Ship

Home world:
Planet Earth
First appearance:
Ultraman 80 episode 32 "Ship On The Sea Of Darkness"
Latest appearance:
None
Height:
Unknown
Weight:
40,000 t
Category:
Robot
Affiliation:
Unkown
Barrack Ship (バラックシップ, Barakku Shippu, Barrack Ship?) was the computer-controlling ship who appears in Ultraman 80 TV Series. It appears in episode 32.
Subtitle: Scrap Ghost Ship (スクラップ幽霊船, Sukurappu Yūreibune, Scrap Ghost Ship?)
Ultraman 80
Edit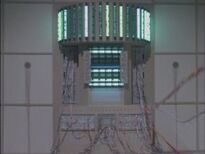 Utilized by an unknown alien force, Iron Barrack was put together using different ships at sea.
Growing even bigger than a monster by absorbing more ships, the weapon became even more deadly as it moved closer to the land. After a UGM craft was absorbed into it, Ultraman 80 came into action. The ship began to fire at the hero, but 80 dove into the water. He eventually fired back, but more attacks were sent out. After those trapped inside the weapon managed to escape, 80 finished off Iron Barrack with his Saxium Ray, blowing it up.
Iron Barrack's suit is a modified Ironrocks suit.
Powers and Abilities
Edit
Storage: Iron Barrack can store other ships within itself.
Cannons: Iron Barrack has many cannons around it's body to prevent enemies from getting too close.