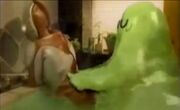 The Bath Gel was a 'monster' that Ultraman 'fought' after a rough day of fighting Alien Baltan.
History
After a hard day of fighting monsters and aliens, Ultraman returned home, set his bath water, and added the Bath Gel. The Jelly like monster began to sooth Ultraman's aching back.
Powers
Not available at this time.
Videos