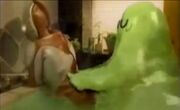 The Bath Gel was a 'monster' that massaged Ultraman's aching back after a rough day of fighting.
History
After a hard day of fighting monsters and aliens, Ultraman returned home, set his bath water, and added the Bath Gel. The jelly-like monster began to sooth Ultraman's aching back.
Powers
Massaging: The Bath Gel is able to sooth back aches through massaging.
Videos