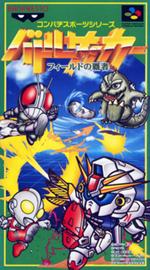 Battle Soccer: Field no Hasha (バトルサッカー フィールドの覇者Field no Hasha Battle Soccer?) is a football video game, developed by Pandora Box and published by Banpresto, which was released exclusively in Japan in 1992. It received a sequel, Battle Soccer 2, in 1994.
This game features many popular Japanese franchise characters like Gundam,Ultraman, Kamen Rider and Godzilla, among a few others.
Team PlayersEdit
External linksEdit
Read more
Ad blocker interference detected!
Wikia is a free-to-use site that makes money from advertising. We have a modified experience for viewers using ad blockers

Wikia is not accessible if you've made further modifications. Remove the custom ad blocker rule(s) and the page will load as expected.