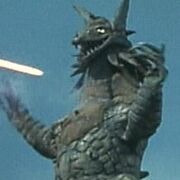 Bemusa King (ベムサキング Bemusa Kingu) is a kaiju that appeared in episode 28 of the TV series, Fireman.
Subtitle: Coalescene Monster
Stats
Height: 54m
Weight: 40,600 t
Origin: TBA
History
Fireman
When Devilsaurus attacked a village, Alien Bemu and the Bemutan attempted to save an old man who helped them. Bemutan then grew into Bemusa King and fought Devilsaurus unti Fireman (character) appeared to help.
BA
Powers and Abilities
TBA
Gallery