Basarks

Home world:
Unknown
First appearance:
{{{First appearance }}}
Latest appearance:
{{{ Latest appearances }}}
Height:
Varies
Weight:
Varies
Category:
{{{ Category }}}
Affiliation:
Delos
Basarks are the robots who were created by Delos civilization in Ultraman Max TV Series.They appear in episode 38 and 39. Their creators, are an ancient civilization, but unlike other ancient civilizations showned or mentioned which have gone extinct, the Delos, went underground to slumber in the wake of a global crises. The beserks where created to watch over and protect the ancient civilization. When global warming caused the sun's rays to reach even their underground home, threatening the stasis pods, the beserks followed their programing and launched an attack on the surface world, knowing about the surface world's protector the made plans to deal with the alien warrior
Subtitle:Robot Beast (机械獣, Kekai Ju)
Powers/Abilities
Edit
Chest Blasts: Scout Basark can launch orange blasts from the orbs of his chest. He is extremely accurate with them.
Giga Basark
Edit
Cannons: Giga Basark has cannons all over it's body that can shoot purple energy.
Armor: Giga Basark has thick armor that can stand up to the normal sized Maxium Sword.
Energy Tentacles: Giga Basark can create energy tentacles from it's body to restrain opponents.
Ultraman Max
Edit
Scout Basark
Edit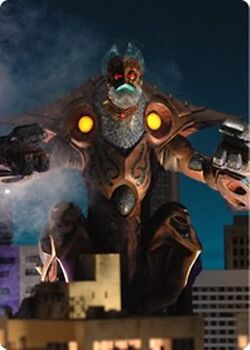 One night the underground robot monster Scout Basark came to the surface to record the planet's attacks. As DASH failed to stop it Kaito turned into
Ultraman Max
, but before could be done the hero told his host he would be leaving Earth soon. Max quickly assaulted Scout Basark and finished it off with the Max Galaxy, but not before Scout Basark could record Ultraman Max's attack.
Giga Basark
Edit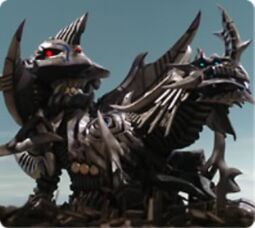 After Delos launched its Giga Basark made a full scale assault on Tokyo. Ultraman Max came to the surface to stop the robot from underground, but his color timer went off right before battle. As Max got close he was caught in Giga Basark's energy tentacles and soon separate Kaito from him by using Max Galaxy to fly him down gently as the hero turned to stone. DASH soon used a plan to use the Max Galaxy to revived Max. After using the Guardian satillite system to coordinate solar energy the Max Galaxy was escorted by DASH, but Giga Basark began to shoot the cables off. Kaito used his body to jump start the Max Galaxy and soon revived Max.Once the hero grew to Giga Basark's size the Max Galaxy and many Maximum Swords were all that will needed to reduce the titanic monstrosity to dust.
Giga Basark grabbed Ultraman Max with its chain-like energy tentacles is the same way like Queen Monera did to Ultraman Dyna with her own tentacles.