Bokurag (ボクラグ, Bokuragu, Bokurag?) was a monster that appeared in Ultraman Gaia episode 5. Most of Bokurag's body mass is made up of sea water making it undetectable to radar. He was able to endure Ultraman Agul's Agul Blade.
Subtitle: Ocean Demon (大海魔, Daikai Ma, Ocean Demon?)
Height: 53 m
Weight: 44,000 t
Origin: Seabed
Ultraman Gaia
Edit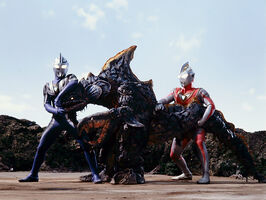 While Gamu Takayama was on a plane to visit his family, he saw Bokurag's huge shadow underneath the water and called XIG in for a scan only for it to pick up nothing. Sometime later XIG did receive some sort of reading in the ocean and began to track it. As Bokura came to the shore not far from Gamu and his mother's position. Gamu had to leave his mother for the moment and chase after Bokurag before he could do any serious damage. XIG tried their best, but nothing seemed to do anything beyond annoy Bokurag. Gamu witnessed Hiroya Fujimiya using the Agulater, revealing that he was Ultraman Agul and planned to stop Bokurag himself. Agul began the attack by launching a hand ball, following up with a beat down and then threw Bokurag into a refinery. As Bokurag tried to retaliate Agul used the Agul Blade to slice the ancient fish monster into three pieces only for him to regenerate. Bokurag grabbed Agul and began to drain the life from him, quickly setting off his color timer, leaving Gamu no choice but to become Ultraman Gaia. Gaia released a few Hand Slices to free Agul from the pincers, but Bokurag simply regenerated them. Gaia kicked Bokurag's head off and he regenerated it back. Bokurag became agitated and began to beat down Gaia and began to drain his energy shortly after. Agul fired the Liquidator, blowing Bokurag to pieces where he couldn't regenerate.
Powers and Weapons
Edit
Adept Swimmer: Bokurag can swim at high speeds.
Life Draining Pincers: Bokurag's hands are giant pincers used to grab and squeeze enemies. These pincers can also drain the lives of enemies.
Regeneration: Bokurag can regenerate from most attacks.
Water Body: Being made of water, Bokurag is undetectable by radar and capable of withstanding attacks.
Ad blocker interference detected!
Wikia is a free-to-use site that makes money from advertising. We have a modified experience for viewers using ad blockers

Wikia is not accessible if you've made further modifications. Remove the custom ad blocker rule(s) and the page will load as expected.