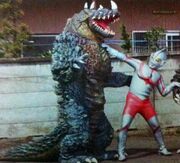 Bosugon (ボスゴン - Bosugon) is a kaiju that appeared in the TV special, "Man who wanted to be Ultraman." in 1993.
Stats
History
Bosugon lead a monster army to fight the Ultra Brothers.
Trivia
Bosugon was never used again, but did make stage show appearances.
The army he lead consited of
Gallery
Ad blocker interference detected!
Wikia is a free-to-use site that makes money from advertising. We have a modified experience for viewers using ad blockers

Wikia is not accessible if you've made further modifications. Remove the custom ad blocker rule(s) and the page will load as expected.