Broken Bonds (傷だらけの絆 Kizudarake no Kizuna?) is the 4th episode of Ultraman Mebius.
Plot
GUYS plans to start using its first Maquette monster Miclas, from which they created from gathering data on him from UG files. They used a hologram Dinozaur for him to fight and only has one minute to defeat it. One by one each member tries but, failes each time due to its cowardlyness until Konami convinces him to go after it but, the time limit goes of and vanishes. Later that day the woman in white (Bogar) appears and summons the monster Cherubim from space. Quick to attack it landed in the city and use its flames and tail to destroy buildings. Konami summons Miclas to fight but, both due to their cowardlyness and the fact Miclas imprinted on her both ran away from the fight and Cherubim left. Konami was then scoled by Ryu for the fact that she ran away and left headquarters. At the school where she taught she was soon convinced over by some of the members she returned just as Cherubim returned. She once agian summoned Miclas to fight and with his new found courage fought the monster until he was knocked down by its tail. Just the Ultraman Mebius appeared to fight it, Cherubim gained the upper hand with its attack and was about to stab the giant with its horn but, Konami blasted the tip of its horn off. Mebius the used the Mebium Blade to cut the monster in half defeating the creature. Sadly though, miclas was found usless by headquarters and had the capusle monster returned for modifications.
Cast
DVD Release
Ultraman Mebius Volume 1 features episodes 1-4.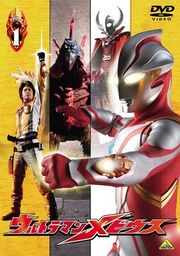 Ad blocker interference detected!
Wikia is a free-to-use site that makes money from advertising. We have a modified experience for viewers using ad blockers

Wikia is not accessible if you've made further modifications. Remove the custom ad blocker rule(s) and the page will load as expected.