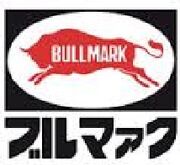 Bullmark (ブルマァク, Burumaaku?) is the very first company to release Ultra merchandise. It was created in 1969 after the bankruptcy of pioneering toy manufacturer Marusan, the company was also known simply as Bull by many people as a logo of a bull was stamped on the bottoms of the feet of its toys. This series of figures is the rarest Ultra merchandise right now, some currently retail for thousands of dollars. Bullmark is also selling the kaiju figures & human hosts figures. Because Bullmark was started releasing toy in 1966 and stopped in 1974, they only released the showa Ultras from the Original Ultraman until Ultraman Leo. Beside the Ultra Series, Bullmark also produced figures for other Tsuburaya series, as well as series made by other companies. Point of articulation is on Arms legs and waist.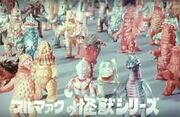 Bullmark's vinyl Godzilla and Ultraman figures are very popular among Japanese toy collectors. Bullmark's vinyl toys were produced in a variety of sizes: "Mini" (3-4"),"standard" (8-9") and "giant" (usually 12" or more). A small number of figures were also re-painted to be sold in Hawaii. These Hawaiian versions of the characters feature brighter colours than their Japanese counterparts and are popular among collectors in Japan and abroad.
List of Toys
Edit
Hero Figures
Edit
Human Hosts Figures
Edit
Kaiju Figures
Edit
Triple Fighter Kaijin
Edit
Demon Phantom Corps Set
Edit
Ad blocker interference detected!
Wikia is a free-to-use site that makes money from advertising. We have a modified experience for viewers using ad blockers

Wikia is not accessible if you've made further modifications. Remove the custom ad blocker rule(s) and the page will load as expected.