Burezaren (ブレザレン Burezaren?) was one of the many new monsters introduced in Neo Ultra Q.
Subtitle: Laundry Monster (洗濯怪獣 Sentaku Kaijū?)
History
Neo Ultra Q
Burezaren was a friendly monster who decided to help his family caretakers in doing their laundry business. He mingled with the local society quite well, even opening an international business, until one day the government asked him to cleanse the world. He did.
Trivia
Powers and Abilities
Cleaning Fluid: Brethren can vomit a fluid which can clean almost anything.
Videos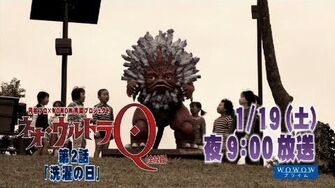 Gallery
Ad blocker interference detected!
Wikia is a free-to-use site that makes money from advertising. We have a modified experience for viewers using ad blockers

Wikia is not accessible if you've made further modifications. Remove the custom ad blocker rule(s) and the page will load as expected.