This is the merchandise page for Camearra that are sold as toys.
Bandai
Ultra Hero Series
Tiga Battle 6 Set (Multi-pack, 2000)

Release Date: 2000 (vintage)
Materials: PVC
JAN/ISBN: 4902425755298
The first Camearra figure is released along with Tiga's 3 Dark forms, and the rest of the 2 Dark Giants: Hudra & Darramb.
Like every one of her comrades, Camearra comes with her own collector card.
Camearra [sic] (2000)

Release Date: 2000
ID number: EX
Materials: PVC
JAN/ISBN: 4543112001733
The Camearra figure is later released individually, with newly retooled opened palms. She also comes with a new collector card.
Ultra Act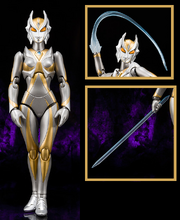 Glitter Tiga & Camearra set[sic] (2-pack, 2015)

Release Date: November 17, 2015
Materials: ABS, PVC
JAN/ISBN: 4549660012580
Accessories: 3 pairs of hands (relaxed, open, holding), Camearra Whip effect, Aizord effect
Ultra-Act Camearra was featured in a 2 pack along with Glitter Tiga.
The figure is released as a Tamashii Webshop exclusive, and it can be ordered between 25th June 2015 from 16:00JST until the 24th August 2015 at 13:00JST, and the product will be shipped this November 17, 2015.