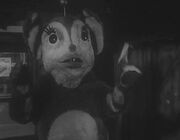 Chamegon (チャメゴン, Chamegon, Chamegon?) was a human friendly kaiju introduced in the 1966 Tsuburaya Special Effects show, Friendly Monster Booska.
History:
Pending.
Chibira Kun
Chamegon appeared twice in the Chibira Kun series, often as a salesman who scammed Goruba and his son. Also, Chamegon's costume head was modified and used for the character, Pipi, in the series.
Powers and Abilities:
Unknown at this time.
Trivia:
Chamegon was introduced as a 'rival' and comedic foil for Booska.
Chamegon, Booska, Pigmon and Kanegon are often teamed up together for Ultraman Land stage shows, most likely for them being the friendliest monsters in Tsuburaya's line up of kaiju.
She is the first female monster of the Booska series.
Gallery:
Ad blocker interference detected!
Wikia is a free-to-use site that makes money from advertising. We have a modified experience for viewers using ad blockers

Wikia is not accessible if you've made further modifications. Remove the custom ad blocker rule(s) and the page will load as expected.