Chaos Darkness
Comments

0
1,363pages on
this wiki
Chaos Darkness

Home world:
None
First appearance:
{{{First appearance }}}
Latest appearance:
{{{ Latest appearances }}}
Height:
N/a
Weight:
N/a
Category:
{{{ Category }}}
Affiliation:
Chaos Header
Chaos Darkness (カオス ダークネス,Kaosu Dākunesu) is the final foe of Ultraman Cosmos. He appears in episodes 64-65.
Height:N/a
Weight: N/a
Powers/Abilities
Edit
Chaos Ball: Chaos Darkness can charge up and fire a devastating Chaos Ball from his hands. This attack has tremendous force behind it, pushing back whatever it hits hundreds of yards.
Energy Blasts: Chaos Darkness can unleash several Energy Blasts from his hands. Each one can cause large explosions, filling entire streets with fire as they tear through structures.
Energy Barrier: When attacked, Chaos Darkness can put up a purple energy barrier that protects him from attacks.
Telekinesis: Chaos Darkness as a superb telekinetic ability, allowing him to lift up enemies with his mind and throw them around as if rag dolls.
Chaos Organisms: When needed, Chaos Darkness can transform into a cloud of Chaos Organisms and float away.
Neo Chaos Darkness
Edit
Darkness Strike: Neo Chaos Darkness can stab opponents using his claw then bring them to the sky before dropping the enemies to the ground.
Darkness Vaporize: Neo Chaos Darkness can fire a massive energy shot from his mouth. It can vaporize even the strongest of enemies.
Neo Chaos Darkness 2
Edit
Eternal Darkness Forever: Neo Chaos Darkness 2 can swallow enemies, putting them into the Neo Chaos Darkness 2 body that traps them in eternal darkness inside his body.
Size Change: Neo Chaos Darkness 2 can change his size from 55 meters to 100 meters (Higher than any Ultras).
City Possession: Neo Chaos Darkness 2 can possess a normal city to make the city into Chaos Destruction.
Ultraman Cosmos
Edit
During a fight with a Chaos Ultraman on the moon, the Chaos Organisms appear and transform the fake Ultra into a devilish beast called "Chaos Darkness". Cosmos tries to put up a fight with the beast, but even with the assistance of EYES, Chaos Darkness beats Cosmos then retreats.
Later on, Chaos Darkness arrives on Earth and causes havoc. Soon, EYES tries to kill the monster, but Musashi appears and tries to convince Chaos Darkness to leave.
The creature refuses and tries to kill Musashi until Ultraman Cosmos appears and tries to fend off the beast. After nearly getting killed, Mogrudon, Bolgils, and Lidorias appear and use their cries, and somehow touch the inner goodness of Chaos Darkness. Having the chance, Cosmos uses the Luna Final and turns the creature into an angel, causing the Chaos Organisms to retreat out of it and float into space, ending the destruction of one of Earth's most deadly threats
Ultraman Fighting Evolution Rebirth
Edit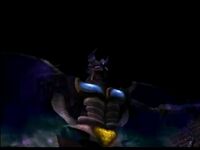 Chaos Darkness also appeared as playable character in Ultraman Fighting Evolution Rebirth videogame. He appeared in episode 13 and can be unlocked and is playable. His final form is called "Neo Chaos Darkness 2" and cannot be unlocked. He only appears as the final boss of the game.
Although not physically seen, Chaos Darkness is one of the monsters that makes up Beryudora's Support 1 in Mega Monster Battle: Ultra Galaxy Legend The Movie.
Chaos Darkness is one of the many monsters to defeat an Ultra the first time.
Chaos Darkness is the one of the only monsters to have goodness inside of it.
Chaos Darkness's costume was a modified Chaos Header Everlease's costume.
It may have been a monster that the Chaos Orginizams corrupted.