Delusion Ultraseven
Comments

2
1,378pages on
this wiki
Delusion Ultraseven

Human Host:
None
Height:
40 m
Weight:
35,000 tons
Age:
Unknown
Home world:
Earth
Voice actor(s):
Hō Ryūyō,
Satoshi Shimada (Ultra Super Fight)
Suit actor(s):
Hiroshi Atsumi
First Appearance:
Ultraman 80 episode 44: "Aggresive Showdown! 80 vs Seven"
Last Appearances:
None
Number of Appearances:
1
Race:
Negative Energy
Status:
Reverted back to Action Figure
Family:
None
Affiliation:
None
Delusion Ultraseven (妄想ウルトラセブン - Mōsō Urutorasebun) is an entity that appeared in the TV series, Ultraman 80. He appeared in episode 44.
Ultraman 80
Powers/Abilities
Emelium Ray: Delusion Ultraseven can emit a concentrated energy bolt from the green orb on his forehead. However, it's power is unknown as it's never made contact with another enemy. It can be assumed it rivals the original Ultraseven's Emelium Ray.
History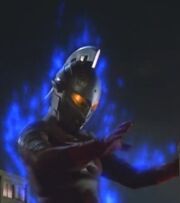 After being put in the hospital by a group of bikers, a small boys rage manifested in the form of his favorite hero: Ultraseven. This Delusion Ultraseven went on a rampage, chasing after those that hurt the boy. When U.G.M was called in, they were shocked to see one of Earth's prior heroes attacking. Thanks to Yullian, however, Takeshi knew this wasn't the true
Ultraseven
. Summoning Ultraman 80, the two drew battle.
Unable to get the upper hand on each other, Delusion Ultraseven began to kick debris at the hero. Seeing this, 80 remembered the boy, whom was a soccer player. Communicating via telekinesis with Yullian, she managed to confirm the fake Ultra was brought to be by him.
After avoiding its Emerium Ray, 80 began to communicate with the body through Delusion Ultraseven, telling him that it is not right to trample the love for Ultraseven of others for his own purpose. As the boy thought of his own actions, 80 hit Delusion Ultraseven with an energy attack, breaking it's bond with the boy before carrying it away.
Ultraman Fighting Evolution 3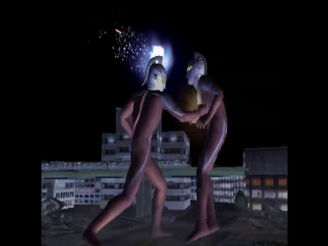 Delusion is a playable character in Ultraman Fighting Evolution 3. He is an unlockable character that can be unlocked via completing his scenrio in the game while getting an S rank. Delusion Ultraseven's character model is simply Ultraseven's in a new position with open hands and a new set of sound effects.
Abilities
Delusion Ultraseven Emerium Beam
Trivia
Due to the gradual deterioration of the suits of the past Ultras over the years until the release of the 80 series, Delusion Ultraseven is a completely new suit of Ultraseven.
Delusion Ultraseven is the only imitation of Ultraseven that isn't a robot.
Delusion Ultraseven's way of walking is simmilar to that of a Chinese vampire.
Delusion Ultraseven's grunts are heavily slowed down Ultraseven grunts.