Dinosaur Tank
Comments

0
1,306pages on
this wiki
Dinosaur Tank

Home world:
Planet Kill
First appearance:
Ultra Seven episode 28: "Run The 700 Kilometers!"
Latest appearance:
Ultra Zone episdoe 1 (as an action figure)
Height:
60 m
Weight:
70,000 t
Category:
Biological Weapon
Affiliation:
Alien Kill (Master)
Dinosaur Tank (恐竜戦車 - Kyōryū-sen-sha) is a monster that appeared in the TV series, Ultraseven. It appeared in episode 28.
Subtitle: Tank Monster (戦車怪獣 - Sen-Sha kaijū)
Ultraseven
Edit
Powers/Weapons
Edit
Cannons: Dinosaur Tank has cannons on the front of his tank base, medium in strength.
Lasers: Dinosaur Tank can fire thin yellow lasers from his eyes, medium in strength.
Bomb: Inside Dinosaur Tank's mouth is a powerful bomb, which is intended as a weapon of last resort.
A biological weapon created by the Alien Kill after its masters were killed in action against The Ultra Garrison, Dinosaur Tank was unleashed. Emerging from the side of a mountain, Dinosaur Tank attacked the Ultra Garrison's testing site by using its laser eyes, knocking two members unconscious and burying Dan alive. Fortunately Dan was able to transform into Ultraseven and managed to rescue the two men from being crushed by Dinosaur Tank. Ultraseven had a hard time fighting Dinosaur Tank after the monster pummeled him with its tail and ran over his left arm. Ultraseven continued to fight back, however, and managed to get ahold of the monster by attacking it from its blind spot, its back. During the fray, Dinosaur Tank dropped its bomb from its mouth, giving Ultraseven the perfect opportunity to stop the weapon. As Ultraseven timed out Dinosaur Tank's returning assault, Ultraseven ignited the bomb with a tiny energy disc and Dinosaur Tank was destroyed in the bomb's explosion.
Toy Release Information
Edit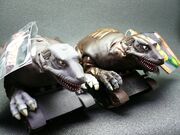 Dinosaur Tank (shortened as Dino-Tank) was only released twice by Bandai as a vinyl figure but was released by many other companies as well (not mentioned here). Dino Tank was released originally in the 2000
Ultramonster Series
in a dark brown color with gold highlights (as shown in photo). Later on, Bandai reissued this figure in the 2009 Ultramonster Series using a grey vinyl with dark brown and silver highlights. Both, fortunately, have eyes and teeth painted on. Dino Tank is #43 in the 2009 series.