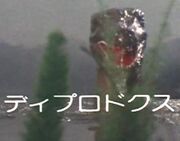 The Diplodocus was one of the many targets of time traveling poachers in Dinosaur Expidition Born Free.
Stats:
Height: N/A
Length: N/A
Weight: N/A
Origin: Prehistoric Earth
History:
Dinosaur Expidition Born Free:
Trivia:
The Diplodocus stop motion puppet is exactly the same size as the brachiosaurus and brontosaurus.
Powers and Abilities:
None.
Ad blocker interference detected!
Wikia is a free-to-use site that makes money from advertising. We have a modified experience for viewers using ad blockers

Wikia is not accessible if you've made further modifications. Remove the custom ad blocker rule(s) and the page will load as expected.