Disturbing Reunion (困惑の再会 Konwaku no Saikai?) is the 4th episode of Ultra Galaxy Mega Monster Battle: Never Ending Odyssey.
Plot
The Great Monster Battle File
Oki: The Great Monster Battle File! And here is today's monster: The Magnetic Monster Antlar! His weapon is these saw-tooth mandibles! He dug them right into Gomora, didn't he. He uses electro-magnetic waves from his feelers to draw in enemies or prey. His body is strong enough to even repel a specium beam.
Kumano: The boss was in trouble!
Oki: So was I, for a minute there!
Kumano: You need more lives than a cat!
Oki: OK...
Kumano and Oki: See ya!
Cast
Appearances
Ultras
Kaiju/Seijin
Reionyx Users
Reionyx Monsters
Other Monsters
Trivia
A piece of flesh that resembles Grangon's tail is seen being thrown at Alien Babarue's Antlar just as they prepare to battle Burst Mode Reimon's Gomora. It is assumed that a Grangon was killed by Gomora. Gomora is also seen carries body parts that belong to the monsters: Natsunomeryu and Mukadender.
Release
Ultra Galaxy Mega Monster Battle: Never Ending Odyssey Volume 1 features episodes 1-4.
The episode was premiered in the United States on TOKU in September 22, 2017.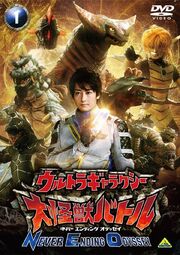 Ad blocker interference detected!
Wikia is a free-to-use site that makes money from advertising. We have a modified experience for viewers using ad blockers

Wikia is not accessible if you've made further modifications. Remove the custom ad blocker rule(s) and the page will load as expected.