Don Shine

Human Host/Form:
TBA
Height:
1.9 m
Weight:
90 Kg
Place of Origin:
Planet Earth (Showa Universe)
Transformation Item:
TBA
Type:
Hero
Voice actor(s):
Tomohiro Yamaguchi
Suit actor(s):
TBA
First Appearance:
Ultraman Geed (2017)
Last Appearance:
TBA
Race:
Cyborg
Status:
Alive
Affiliation:
Unknown
Don Shine (ドンシャイン Don Syain?) is a television masked hero that appeared in Ultraman Geed.
Subtitle: Explosion Battle Record (爆裂戦記 Bakuretsu Senki?)
Stats
Height: 1.9 m.
Weight: 90 Kg.
Ability Perimeters
Punching Power: 2.5 t.
Kicking Power: 7 t.
Maximum Jump Height: 20 m.
Maximum Running Speed: 100m. per 6.6 sec.
History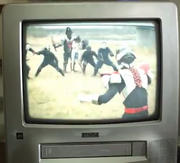 Not much is known about this character right now, but he is a hero of a Tokusatsu TV that airs in the world of Ultraman Geed. Riku Asakura is a big fan of the show.

Powers and Weapons
Trivia
Don Shine is a clear reference to other popular Tokusatsu franchises in Japan, such as Kamen Rider and the Super Sentai series.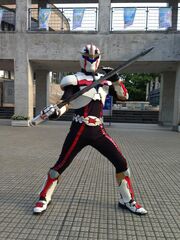 Don Shine's suit is actually a modified version of Captelion, a Japanese-Exclusive Tokusatsu franchise.
Gallery
Ad blocker interference detected!
Wikia is a free-to-use site that makes money from advertising. We have a modified experience for viewers using ad blockers

Wikia is not accessible if you've made further modifications. Remove the custom ad blocker rule(s) and the page will load as expected.