Draculas
Comment

1
1,377pages on
this wiki
Draculas

Home world:
Camila
First appearance:
{{{First appearance }}}
Latest appearance:
{{{ Latest appearances }}}
Height:
41 Meters
Weight:
28,000 tons
Category:
{{{ Category }}}
Affiliation:
Beryudora (Body Part)
Draculas (血鬼ドラキュラ - Dracula) is a Monster that appeared in the TV series, The Return of Ultraman. It appeared in episode 36.
Subtitle: Space Bat (宇宙コウモリ Uchū Kelelaw)
The Return of Ultraman
Edit
Powers/Abilities
Edit
Flight: Draculas can fly at super sonic speeds.
Fangs: Draculas has a pair of very sharp fangs strong enough to stab through the likes of Ultraman Jack. After biting into something, Draculas will begin to drain the life out of his victim.
Energy Blasts: Draculas can fire red missile-strength, crescent-shaped energy blasts from his mouth. They can big explosions as well as large fires.
Mist: Draculas can emit a white mist from his mouth that can temporarily blind the likes of Ultraman Jack.
Vampire Woman: A corpse used as a disguise, Draculas can turn into a woman in white during the day. While as the Vampire Woman Draculas can fly in this form as well.
A vampire-like being from the planet Camila, Draculas came to Earth to conquer it. After realizing Earth had much more solar energy then his home world, he possessed the corpse of a dead woman in white. After MAT discovered her flying abilities, they tracked her down the rest of the day. That night while MAT was in pursuit, the Vampire Woman turned into Draculas with Goh turning into Ultraman Jack shortly after. The two beings of light and dark clashed with one another with Draculas managing to bite into Jack's shoulder. However, Jack used his Ultra Bracelet to create a blinding light that distracted Draculas long enough for him to be impaled through the heart with the Ultra Lance, much like the vampire folklore of Earth.
Draculas will later inspire he creation of Kyuranos.
Draculas' roar is a modified Gorosaurus roar.
Draculas reappears in Redman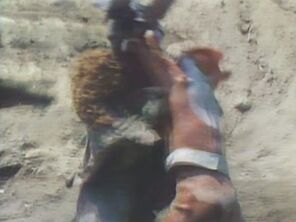 , where he teams up with
Alien Bat
.
At episode 123, Draculas teams up with Alien Bat to battle Redman.