Dragon Force: Rise of Ultraman

Directed by:
Tommy Wang@Wei Wang
Produced by:
Guangzhou BlueArc Culture and Broadcasting
Written by:
TBA
Starring:
TBA
Music by:
TBA
Cinematography:
TBA
Editing by:
TBA
Distributed by:
Le Vision Pictures
Release Date(s)
Winter 2019
Running time
TBA
Country
Mainland China
Language
Mandarin Chinese
Dragon Force: Rise of Ultraman (钢铁飞龙之奥特曼崛起 Gāng tiě fēi lóng zhī ào tè màn jué qǐ) is a crossover movie between the characters of BlueArc Studios' Dragon Force, and Ultraman. It is the sequel to Dragon Force: So Long Ultraman and the second of 6 outlaw movies produced by BlueArc.
Synopsis
In order to prevent the destruction of the earth, Ultraman chose the seemingly ordinary boy Lele as his own human body, facing the challenges, the naughty little boy goes under the guidance of Ultraman, becoming a key figure in saving the earth, and the secret of Ultraman's super power is gradually revealed...[1]
Reception
Netizens across the Internet, especially Chinese users, have already begun blasting the movie with negative comments.
Contribution to Licensing Disputes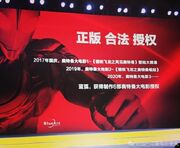 Despite Tsuburaya having a court victory in 2018, Blue Arc insists that their rights to make these movies were legal and authorized by the Chinese government, and that they were going to produce 5 more sequels, with the next coming in 2020.
Cast
Ultraman (奥特曼

Ào Tè Màn

): Yong Hou (侯勇

Hóu Yǒng

)
Tie Quan (铁拳

Tiě Quán

lit. Tekken): Shaowen Hao (郝劭文

Hǎo Shào Wén

)
Maggie: Jingjing Qu (屈菁菁

Qū Jīng Jīng

)
Xiao Xing (小星

Xiǎo Xīng

lit. Little Star): Wowkie Zhang (大张伟

Dà Zhāng Wěi

)
Shen Lan (深蓝

Shēn Lán

lit. Dark Blue): Zheming Qu (曲哲明

Qū Zhé Míng

)
Chi Yan (炽焰

Chì Yàn

lit. Flames): Yunxi Luo (罗云熙

Luō Yún Xī

)
Yi Te (伊特

Yī Tè

): Duo Wang (汪铎

Wāng Duó

)
Theme Song
Gallery
References