Garuballade
Comments

0
1,301pages on
this wiki
Redirected from Eem
Garuballade

Home world:
Planet Sorkin
First appearance:
Ultraman: The Adventure Begins
Latest appearance:
None
Height:
91.44 m
Weight:
91,000 tons
Category:
Kaiju
Affiliation:
None

Garuballade (ガルバラード, Garubarādo, Garuballade?) is a Sorkin kaiju that first appeared in the animated movie Ultraman: The Adventure Begins.
Subtitle: Electromagnetic Monster (電磁怪獣, Denji Kaijū, Electromagnetic Monster?)
Garuballade
Edit
Powers/Abilities
Edit
Electrical Shocks: Garuballade can emit electric shocks from his body.
Shoulder Lasers: Garuballade can fire explosive yellow lasers from his claw-like shoulders. Tehse lasers can be enhanced with electricity.
Electric Claw Tail: Garuballade can charge his claw-like tail with electricity.
The pieces of the meteor then arranged themselves around the alien, forming a new beast of raw power. Garuballade rampaged across San Francisco, unleashing balls of energy on everything before it.Its antics forced Scott and the mother ship to leave the battle with Green Shocks to battle this new threat. In battle against it, the power of Ultraman Scott was summoned. The creature unleashed its power on the hero, but not even it could withstand the Ultraman.With ease, Scott threw the creature on a small island off the coast where its meteor-made body cracked and shattered. Eem was again vulnerable.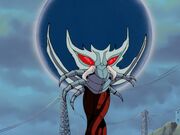 Powers/Abilities
Edit
Electric Beam: Im can emit yellow highly electric beams from his eyes.
After Garuballade crashed into Alcatraz Island he revealed his true form of Eem with Ultraman Scott caught off guard. Scott was virtually paralyzed from the electric beam until the Ultra Force mothership was used to block Eem's attack. Once Scott was free, he used a combination of the Force Beam, Energy Rings, and Granium Beam to destroy Eem before flying off.