Farewell Taro! The Mother of Ultra! is the 53rd episode of Ultraman Taro.
Plot
Kotaro gave the Ultra Badge back to the Lady In Green, separating from Ultraman Taro. However, not long after he separated from Taro, Alien Valkie attacked Tokyo by surprise to get his revenge on Ultraman Taro, without knowing Kotaro had been separated from him. Kotaro fought him with his own human abilities and managed to defeat him by blowing up a nearby gas tank. After that he left ZAT to pursue his dream of becoming a professional boxer.
Cast
Ultras
Aliens/Monsters
DVD Release
Ultraman Taro Volume 13 features episodes 50-53.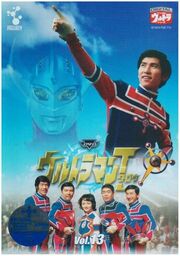 Trivia
This episode was later featured in Ultraman Retsuden Episode 149: The Final Battle! Farewell Taro! Mother of Ultra!.
This episode marks the last time Saburo Shinoda reprised his role as Kotaro Higashi and Ultraman Taro's voice actor, as well as Peggy Hayama's roles of The Lady In Green and Mother of Ultra's voice. It also marks their final appearance in the Ultra Series franchise as a whole, the latter having passed away in 2017.
This is the first final episode which an alien defeated without any help of the main Ultra.