Fireman

Human form:
Misakey / Daisuke Misaki
Height:
50 meters
Weight:
48,000 tons
Place of Origin:
The Aban continent
Transformation Item:
The Fire stick
Type:
Hero
Voice actor(s):
Michihiro Ikemizu
Suit actor(s):
Mitsuru Saijō
First Appearance:
Fireman episode 1 Birth of Fireman (ファイヤーマン誕生 Faiyāman no Tanjō)
Last Appearance:
Fireman episode 30 Fireman Disappears into Space (宇宙に消えたファイヤーマン Ucyū ni kieta Faiyāman)
Number of Appearances:
N/a
Race:
Aban
Status:
TBA
Affiliation:
SAF
A strange phenomenon happened throughout the world, causing giant, mutant dinosaurs to suddenly appear. The people of the Aban continent, living underground for the last 12,000 years sends a courageous young man named Misakey to live as an archeologist and SAF agent Daisuke Misaki. Whenever monsters and space aliens attack the world, Misaki transforms into Fireman (ファイヤーマン, Faiyāman) who will die if exposed to light of the sun for more than three minutes. When the surface world is attacked by aliens one of the Agan risks his life to defend it, as the giant hero. By using the fire-stick, he trasforms and defends the human race against them.
Height: 50 meters
Weight: 48,000 tons
Techniques
Edit
Fire Powers: As his name suggests, Fireman's powers revolve around fire, he can generate it and control it the same way an Ultra controls Light
Laser Beams: Fireman can fire powerful laser beams from his eyes
Fire Spark: Fireman can gather energy in to a large fireball in his hands and throw it, destroying a monster in one hit
Fire Dash: Fireman can turn into a giant humanoid of fire and crash into a monster destroying them from the inside, it is similar to the Ultra Dynamite in that he reforms afterwards.
Lance: Fireman can conjure a lance which will pierce through a monster destroying them.
Extraordinary Jumper: Fireman can leap straight up to incredible heights
Flight: Like many Giant Heroes, Fireman can fly under his own power
Pending
Pending
Transformation
Edit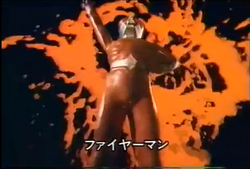 Daisuke Misaki crosses both of his arms in front of him, while holding the Fire Stick, seemingly to gather all his energy then holds the Fire stick to his chest, then raises the Fire Stick in the air and transforms into Fireman.
Fireman is also called Magma Man in some regions