Flamelar (フレムラー Furemurā?) is one of the many computer virus monsters created to fight Gridman in Denkou Choujin Gridman, appearing in episodes 7, 8 and 19 as Mecha Flamelar. He was known as Plexton in Superhuman Samurai Syber-Squad, and was described as being "The static charged Megavirus monster".
Subtitle: Firey-Flame Kaiju (火炎怪獣 Kaenhono Kaiju?)
History
Flamelar
A dinosaur-like fire virus. Flamelar was sent into Yuka Inoue's microwave to overheat its generator, turning it into a timebomb. With only three minutes left on the microwave's timer, Gridman made haste to stop Flamelar before Yuka can be killed in the explosion. Using the Plasma Sword, Gridman severed Flamelar's tail and head, but Khan Digifier recalled the monster before it could be destroyed. With the Fixer Beam, Gridman cooled the microwave's generator.
Flamerlar returned and this time was sent into Yuka's air conditioner, heating her home at an unbearable temperature. The monster teamed up with Blizzalar to battle Girdman. But it was by turning the two monsters against with each other that Girdman defeated them with his Girdman Sword.
Mecha Flamelar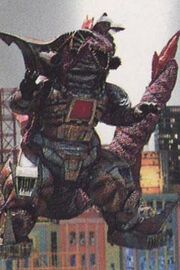 Flamelar was recreated once more, but this time Takeshi placed it in a salon blowdryer to get even with a female police officer who caught him peeking at another female officer's miniskirted buttocks. Kahn Digifier was extremely displeased by Takeshi's petty use of the monster and ordered the boy to upgrade it into Mecha Flamelar (メカフレムラー Meka Furemurā?). Mecha Flamelar's fire breath was stronger and its armor could emit jets of hot steam. Instead of bad hair days, Mecha Flamelar was overheating the salon's equipment that would eventually kill the customers. Ippei modified the Dragonic Cannon into the DinaFighter and blasted missiles at Mecha Flamelar's mouth, destroying its flame power. The monster was destroyed by Gridman's Grid Beam.
Trivia
Unlike his blizzard counterpart, Blizzalar, Flamelar gained a mecha version.
Flamelar and Blizzalar might be a homage to the Giras Brothers from Ultraman Leo
Data
Flamelar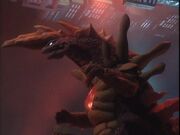 Stats
Height: 73 m
Weight: 76 000 t
Origin: Cyberspace
Powers and Abilities
Fireballs: Flamelar can spit, in rapid succession, fireballs from his mouth.
Flames: Flamelar can spew flames from his mouth.
Gallery