Gadorasaurous

Home world:
Planet Earth (Fireman universe)
First appearance:
Fireman episode 26 "The Secret of the Mountain Shining in the Evening Sun"
Latest appearance:
None
Height:
62 m
Weight:
34,000 t
Category:
Kaiju
Affiliation:
None
Roar(s):
N/a
Gadorasaurous (ガドラザウルス, Gadorazaurusu, Gadorasaurous?) is a saurian beast that Fireman fought in episode 26, The Secret of the Mountain Shining in the Evening Sun (夕日に光る岩山の秘密, Yūhi Ni Hikaru Iwayama no Himitsu, The Secret of the Mountain Shining in the Evening Sun?)
Subtitle: Saber Monster (サーベル怪獣, Sāberu Kaijū, Saber Monster?)
Stats
Height: 62 m
Weight: 34,000 t
Origin: Rocky mountains
History
TBA
Trivia
Gadorasaurous' suit would later be used for Dark Mander.
Powers and Weapons
Blades: Located on Gadorasaurous' wrist are two very sharp blades.
Gallery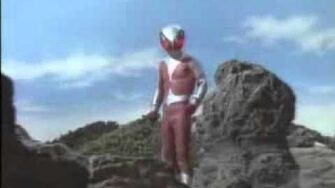 Ad blocker interference detected!
Wikia is a free-to-use site that makes money from advertising. We have a modified experience for viewers using ad blockers

Wikia is not accessible if you've made further modifications. Remove the custom ad blocker rule(s) and the page will load as expected.