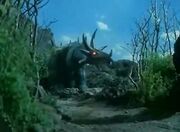 Gagara (ガガラ Gagara?) is a mutant dinosaur sent by Dinosaur Mao Gottes to fight Izenborg in Great Dinosaur War Izenborg.
Length: TBA
Weight: TBA
Origin: Earth
Gagara was sent by Gottes to find a new soldier, and in a rare moment, mammal and dinosaur worked together, as Gagara took control over the mind of a giant gorilla.
After the gorilla's mind was set free, the ape went ape and attacked the stegosaur like monster and kept him busy until Izenborg showed up.
Powers and Abilities
Edit
Flames: From his mouth, Gagara can spit a deadly flame.
Mind Control: Like earlier members of the Dinosaur Army, Gagara can take control over the mind of mammals.
Ad blocker interference detected!
Wikia is a free-to-use site that makes money from advertising. We have a modified experience for viewers using ad blockers

Wikia is not accessible if you've made further modifications. Remove the custom ad blocker rule(s) and the page will load as expected.