Gamu vs Gamu (雅夢隊雅夢,Gamu tai Gamu, Gamu vs Gamu?) is episode 42 of Ultraman Gaia.
Summary
TBA
Synopsis
TBA
Monsters
DVD Release
Ultraman Gaia Volume 11 features episodes 41-44.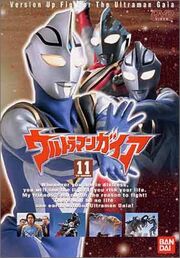 Trivia
In this episode Gamu visits Germany
Also Catherine returns in this episode along with a few others after
We find out about another Alchemy Stars member Klaus
Ad blocker interference detected!
Wikia is a free-to-use site that makes money from advertising. We have a modified experience for viewers using ad blockers

Wikia is not accessible if you've made further modifications. Remove the custom ad blocker rule(s) and the page will load as expected.