Giant of Evil (邪悪の巨人 Jaaku no Kyojin?) is the 40th episode of Ultraman Cosmos.
Plot
Musashi has been captured by Chaos Header, and Team EYES must try to save him. Meanwhile, Chaos Header/ Ultraman summons another monster...
Cast
Modes
Luna Mode
Corona Mode
Eclipse Mode
Organisms/Monsters
DVD Release
Ultraman Cosmo Vol 10 features episodes 37-40.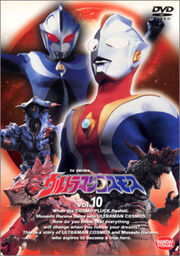 Ad blocker interference detected!
Wikia is a free-to-use site that makes money from advertising. We have a modified experience for viewers using ad blockers

Wikia is not accessible if you've made further modifications. Remove the custom ad blocker rule(s) and the page will load as expected.