Go Beyond the Ultra Brothers! (ウルトラ兄弟を超えてゆけ! Urutora kyōdai o koete yuke!?) is the 40th episode of Ultraman Taro, and tributes of Ultraman-Ultraman Ace which occurs each time a past Ultra Protagonist is preparing to battle Tyrant.
Accoridng to this episode, the events of Ultraman-Ultraman Ace happened during the 1940s.
Summary
While Kotaro is celebrating New Years with a family and teaching a kid named Takeshi how to ride a bike, each of the Ultra Brothers patrolling the planets in the solar system fight a powerful monster named Tyrant, who was created by the souls of defeated monsters.
Synopsis
TBA
Cast
TBA
35 Great Monsters, Aliens Appearance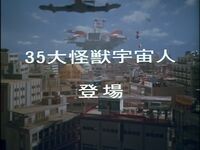 Parts of Tyrant not included in the tributes: Alien Icarus, King Crab, & Hanzagiran
DVD Releases
Ultraman Taro Volume 10 features episodes 38-41.
Errors
Ultraseven has no ears, which would appear again in the premiere of Ultraman Leo
Ad blocker interference detected!
Wikia is a free-to-use site that makes money from advertising. We have a modified experience for viewers using ad blockers

Wikia is not accessible if you've made further modifications. Remove the custom ad blocker rule(s) and the page will load as expected.