Gokidon

Home world:
Earth
First appearance:
Iwatani Commercial
Latest appearance:
None
Height:
Unknown
Weight:
Unknown
Category:
Kaiju
Affiliation:
Unknown
Roar(s):
TBA
Gokidon (ゴキドン Gokidon?) was created by Tsuburaya for an Insecticide commercial.
Subtitle: Cockroach Monster (ゴキブリ怪獣 Gokiburi Kaiju?)
Stats
Height: N/A
Weight: N/A
Origin: Unknown
History
A massive cockroach monster appeared in the middle of the city of Tokyo. It's attacks where constantly thwarted by the JSDF using a new insecticide, Iwatani.
Other Media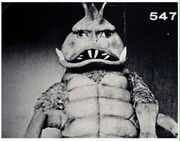 Chibira-Kun
Like many other Ultraman monsters and aliens, Gokidon appeared in the series, Chibira-Kun.
Trivia
Gokidon is the first monster made exclusively for commercials by Tsuburaya, others would be Bath Gel and Gomira.
Gokidon shares his name AND his subtitle with Gokibura of Mirrorman.
Gokidon is similar to Earthrock Trilobyte from Megaman X8 Maverick.
Oddly, Gokidon received a Marusan figure.
Powers and Abilities
None
Gallery
Ad blocker interference detected!
Wikia is a free-to-use site that makes money from advertising. We have a modified experience for viewers using ad blockers

Wikia is not accessible if you've made further modifications. Remove the custom ad blocker rule(s) and the page will load as expected.