The Gravity Machine (重力マシン Jūryoku Mashin?) is a machine used by The Invaders to attempt to defeat Mirrorman.
Subtitle: Alternate Dimension Superweapon (異次元超兵器 I Jigen Chō-Heiki?)
Alt subtitle: Robot Monster (ロボット怪獣 Robotto Kaijū?)
Stats
Height: 20 m
Weight: 47,000 t
Origin: A Namioka City building
History
Mirrorman
TBA
Mirror Fight
The Gravity Machine appeared in episode 14 of Mirror Fight. Stock footage of its "fight" in Mirrorman were reused in this series.
Powers and Abilities
Gravity Control: As it's name implies, it can control the gravity around it.
Videos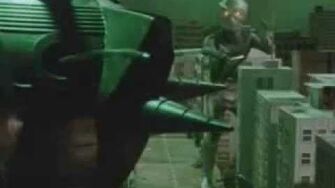 Ad blocker interference detected!
Wikia is a free-to-use site that makes money from advertising. We have a modified experience for viewers using ad blockers

Wikia is not accessible if you've made further modifications. Remove the custom ad blocker rule(s) and the page will load as expected.