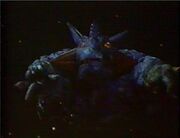 Halley Jack
(ハレージャック
Harē Jakku
?
) is a kaiju that appeared in
Mirrorman
.

Subtitle: TBA
Stats
Height: TBA
Weight: TBA
Origin: Space
History
First attacking Androsaurus and her child, Halley Jack teamed up with the kaiju, Gorgosaurus, Mayasaurus , and Pair-Mons King to fight against Mirrorman. When the trio of saurians couldn't stop the Mirror warrior, he fought the silver fighter in space.
Powers and Abilities
Flight: Halley Jack can fly throught the air and space at high speeds.
Gallery