Hiroko Sakurai

Born:
March 4, 1946
Meguro, Tokyo, Japan
Occupation:
Actress, Producer
Years active:
1966 - present
Spouse:
N/A
Website:
N/A
Hiroko Sakurai
(桜井浩子Sakurai Hiroko

?

)
is a Japanese actress and producer at
Tsuburaya Productions
. She is a member of
Ultraman Foundation
with
Susumu Kurobe and
the others. She is known for her role as
Akiko Fuji
in the series
Ultraman
.
Filmography
Series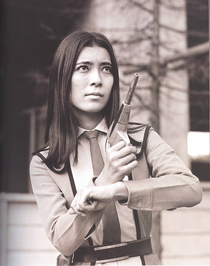 Film
1967: Ultraman (1967 film)
1979: Ultraman (1979 film)
1996: Revive! Ultraman
1996: Ultraman Zearth
1997: Ultraman Zearth 2
2001: Ultraman Cosmos: The First Contact
2006: Ultraman Mebius & Ultraman Brothers
2008: Superior Ultraman 8 Brothers as Akiko Fuji
Support Message for Japan Childrens
"To all children, please don't go to any dangerous places! When you are sad, do not hesitate to show your tears. But after you have cried, look up, face forward, and move on. You have my support!
Books
A Chronicle of Ultraman's Youth: Member Fuji's 929 Days (ウルトラマン青春記―フジ隊員の929日 Urutoraman seishunki- Fuji taiin no 929 nichi?) (1994, Shōgakukan) ISBN 4-09-387128-0
The Genesis Of Ultraman (ウルトラマン創世記 Urutoraman sōseiki?) (2003, Shōgakukan)ISBN 4-09-387464-6.
Akiko Fujiko's Story: Secrets Behind the Filming of Ultraman (フジアキコ物語: ウルトラマン撮影秘話。 Fuji akiko monogatari : urutoraman satsuei hiwa.?) (2005, Kadokawashoten) ISBN 404853853.
Gallery
Ad blocker interference detected!
Wikia is a free-to-use site that makes money from advertising. We have a modified experience for viewers using ad blockers

Wikia is not accessible if you've made further modifications. Remove the custom ad blocker rule(s) and the page will load as expected.