I Am an Earthling
The Final Chapters, Episode 6

Air date
12/31/1999
Written by
TBA
Screenplay by
Junki Takegami
Directed by
Shinichi Kamisawa
Special skill director
Hiromasa Mitsutome
Viewer Ratings
None
Episode Guide
previous
The Imitated Man
next
Dark Side
I Am an Earthling (わたしは地球人 Watashi wa chikyūjin?) is one of the The Final Chapter episodes of Heisei Ultraseven.
Plot
TBA
Casts
TBA
Ultras
Aliens/Monsters
DVD Release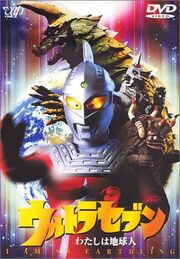 Ad blocker interference detected!
Wikia is a free-to-use site that makes money from advertising. We have a modified experience for viewers using ad blockers

Wikia is not accessible if you've made further modifications. Remove the custom ad blocker rule(s) and the page will load as expected.