I Want to See Gaia! (ガイアに会いたい, Gaia Ni Aitai, I Want to See Gaia!?) is episode 40 of Ultraman Gaia.
Heroes
Monsters
DVD Release
Ultraman Gaia Volume 10 Features Episodes 37-40.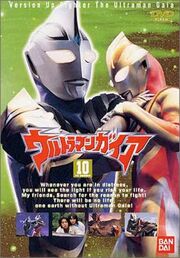 Trivia
This episode was aired after the Ultraman Campaign in which kids could come have a chance to star in this episode, and also to say that's where the episode gots it's name
The collection of illustration that Taro draw in this episode also foreshadow the next episode that he told Gamu that he wish that Gaia and Agul will protect the world together in the future
Ad blocker interference detected!
Wikia is a free-to-use site that makes money from advertising. We have a modified experience for viewers using ad blockers

Wikia is not accessible if you've made further modifications. Remove the custom ad blocker rule(s) and the page will load as expected.