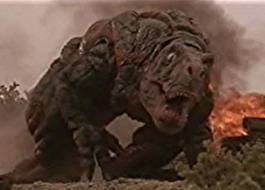 Jomonoid is one of Ultraman Tiga kaiju. he appeared in Ultraman Tiga Gaiden: Revival of The Ancient Giant
A massive dinosaur-like beast, Jomonoid appeared in the Japanese countryside and began to wreck havoc. It was confronted by Super GUTS and its newest member Tsubasa Madoka, the son of Daigo and Rena. As the monster and the advanced jet fighter fought, a time warp opened above them and sucked them into the ancient past of Japan. The monster was quickly brought under Orochi's control, an evil magician with dreams of ruling all of Japan.
The monster was unleashed on the country and no spear or catapult could help to stop it. Having found the Spark Lens, and knowing what it was from his mother's descriptions, Tsubasa summoned Ultraman Tiga, but the giant wasn't fully revived or powered. He had to make this battle quick and, as the village burned around them, Tiga grabbed its tail and swung it around. He tossed the kaiju away, forcing it to return to its master as Tiga vanished into thin air.
When the heroes returned to get their revenge on Orochi, Jomonoid was again let loose. This time armed with their own magic and Tsubasa's fighter craft, they managed to withstand its power for a few moments until Tsubasa again summoned Ultraman Tiga. Just as another monster, Dogouf, was released, Tiga destroyed Jomonoid with his Zepellion Ray.
- Flames: Jomonoid can emit a stream of deadly fire from his mouth.
Height: 60 feet Length: Not Available Mass: Not Available Running Speed: Moderate Burrowing Speed: Moderate
Home World: Earth Origin: Japan