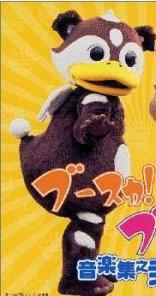 Kamosuke (カモスケ Kamosuke?) is a duck/bird like monster that appeared in the 1999 remake of Booska's series, 'Booska! Booska!'
Booska! Booska!
Edit
Pending.
Along with Booska, Kamosuke had made a cameo appearance in the special where he worked as a waiter at a restaurant serving food, with customers including the trio of human-disguised Alien Mijir. He also witnessed Ultraman Dyna's battle with Wanzetto.
Kamosuke was meant to be a kinder, more gentle 'foe' and friend for Booska than Chamegon.
None.
Ad blocker interference detected!
Wikia is a free-to-use site that makes money from advertising. We have a modified experience for viewers using ad blockers

Wikia is not accessible if you've made further modifications. Remove the custom ad blocker rule(s) and the page will load as expected.